Crafted by Design is a specialist supplier of Corian kitchen worktops.  With our showroom and fabrication plant in Berkshire we are ideally located to serve London and the south east of England.
About Corian
Corian works extremely well as a kitchen worktop and offers many benefits.  It is a man-made material composed of acrylic polymer and alumina trihydrate, a material derived from bauxite ore.  It provides a highly customisable, durable and easy to maintain surface. This sleek and contemporary product can be used to create stunning kitchen worktops. 
Corian is the solid surface material created by DuPont and it is the original material of this type, first created by DuPont scientists in 1967.  DuPont continually work to improve its residential surfaces portfolio.  As a result, Corian solid surface has consistently attained a very high customer satisfaction rating of 96%.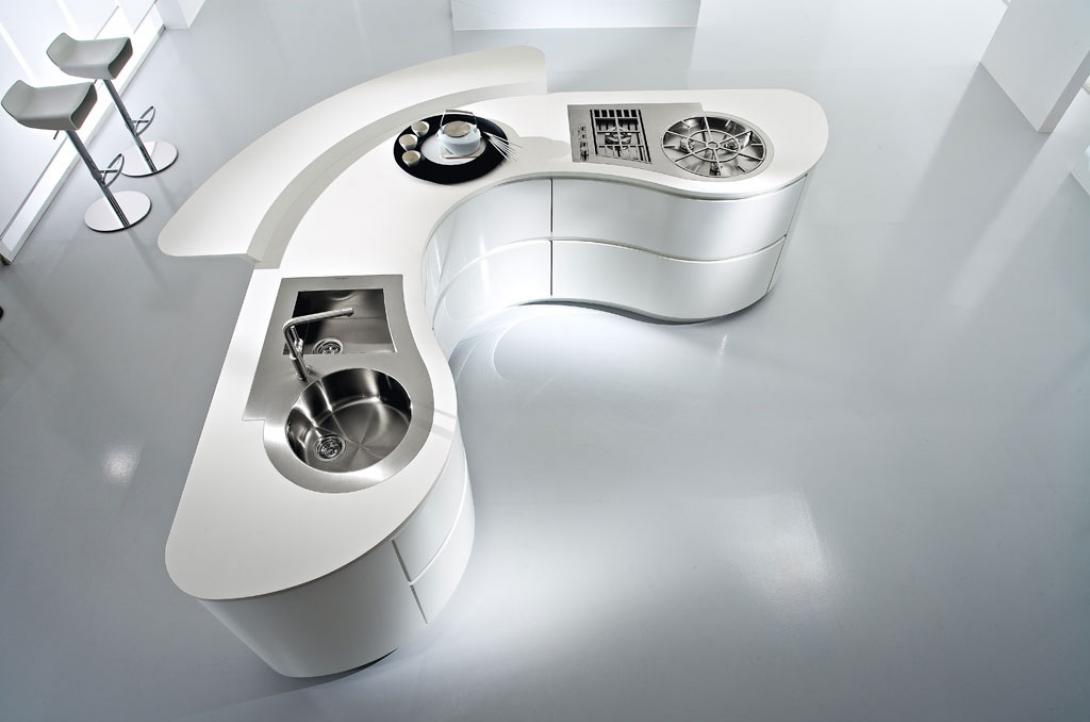 Imagine a surface that can morph into a variety of shapes that can flow and sweep into stylish surfaces and brings life to any kitchen project. Solid surfaces are 100% waterproof, hygienic, durable, seamless and unlike granite, marble or quartz, it can be repaired if damaged.
Corian is ideal for kitchen worktops thanks to its superior chemical resistance. With a warm surface and pleasant feel, it is resistant to concentrated acids, stains of all kinds and chemical products including solvents.
Hobs and sinks can be easily incorporated into Corian kitchen worktops wherever required, whilst incorporating gentle curves without losing any of its strength or durability. When it comes to finding a solution that needs to incorporate both style and practicality, solid surface materials are unrivalled.
Benefits of Corian for Kitchen Worktops
Resistant
It is a nonporous surface material that can not delaminate (cannot be defaced, loose its color or finish) so stains cannot penetrate its surface meaning it is ideal for everyday use.
Hygienic
The smooth surface does not allow liquids to penetrate making it easy to clean. Bacteria and mould have nowhere to take root. When Corian® looks clean, it really is clean. Due to it being a nonporous product, solid surface provides a more hygienic finish than quartz or natural stone. Because of this it is now used in hospitals, dental surgeries and laboratories.
Non Toxic
When under normal temperature it does not emit any gas and when burnt solid surface mainly releases carbon dioxide.
Repairable
All solid surfaces materials are renewable – this means they can easily be restored with ordinary mild abrasive cleaners and a scouring pad. Extreme damage can be repaired by professionals without the need to replace the entire worktop.
Solid
Colours and textures run all the way through the materials entire thickness and cannot wear away.
Seamless joins
Solid surface can be glued together and polished down to produce seamless inconspicuous joins, unlike quartz and stone worktops which require a grout line to join the two worktops.  Offering a seamless flowing finish with integrated sinks and backsplashes
Thermoformable
One of the best features of Solid Surface is that you can create almost any shape you want once it is heated. This process is called thermoforming. It can be heated and molded into flowing shapes and radius corners. This is done by heating the material to 135 degrees for 25 minutes then vacuum pressed on a wooden mold to create 2D and 3D designs
Beautiful colour and finishes
Corian comes in a dazzling array of colors and finishes.  There are hundreds of beautiful colours and textures that will enable you to create a beautiful and aesthetically pleasing kitchen.
Corian Kitchen Worktop Colours
Discover the vast array of Corian solid surface colours we have available. With a multitude of colours and materials
to choose from giving you plenty of options. With all this inspiration we are sure you'll find the perfect solution for your project.