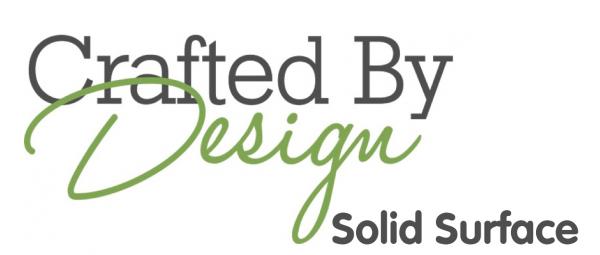 Solid surface is a man-made material composed of acrylic polymer and alumina trihydrate, which provides a highly customisable, durable and easy to maintain surface. This sleek and contemporary surface is often used to create stunning kitchen, bathroom and commercial worktops due to its endless design possibilities.
Imagine a surface that can morph into a variety of shapes that can flow and sweep into stylish surfaces and brings life to any kitchen, bathroom or commercial project. Solid surfaces are 100% waterproof, hygienic, durable, seamless and unlike granite, marble or quartz, it can be repaired if damaged.
Hobs and sinks can easily be incorporated into a solid surface worktop wherever required, whilst incorporating gentle curves without losing any of its strength and durability. When it comes to finding a solution that needs to incorporate both style and practicality, solid surface materials are unrivalled.
At Crafted By Design our team of specialist fabricators are all Corian®, HI-MACS® and Staron® Approved and abide to the strict guidelines which ensures that quality is guaranteed.
To find out more about how solid surface can transform your commercial or domestic space or to book a showroom appointment, please email enquiries@craftedbydesign.co.uk, alternatively call one of our team on: 01183 800 550.